Need to outsource education industry roles to the Philippines? Before you hire your offshore provider, here's what you need to know…
Education sector growth shows no signs of slowing, with research showing that the industry is expected to be worth $10 trillion by 2030, making up more than 6% of gross world product1
While the opportunities are great, providers who wish to be part of this global trend must be cognizant of the changing landscape and prepared to meet significant challenges.
A panel of higher education specialists identified five key trends affecting the sector2: the growth of consumerism, shrinking profitability margins, increasing competition, shifting industry requirements, and geopolitical factors.
As an operator in the sector, you're well aware that the future is already here. Digital transformation and viability in the peer-to-peer exchange economy requires an agile approach – either change to meet expectations and circumstances or fall behind.
Book a Free Consultation
Want an education professional – or a team of education professionals – in the Philippines?
Your clients are looking for high standard educational outcomes. But they want those to be suited to 21st century needs, and delivered via innovative, seamless, technologically driven platforms. You must focus internal resources on your core business to ensure the provision of a high-quality product that is competitive and relevant into the future, while at the same time investing in a different kind of expertise to ensure your customer's delivery expectations are met.
Offshoring some parts of your operation is the way to achieve both of those goals. It's why working with a BPO in the education industry is becoming increasingly common.
Why outsourcing education industry roles makes sense
Innovation and technology play a central role3 in education delivery into the future. As mobile phones and internet access become ubiquitous in developed and emergent nations, your service must be optimized for those platforms.
That makes this sector well suited to outsourcing. Education focused organizations benefit from more efficient, professional, cost-effective delivery of their services to a digitally-oriented customer base.
A 2015 Forrester survey showed4 "customers increasingly leverage self-service and agent-assisted digital communication channels for customer service." That's how your future clients are going to find you, and how they'll interact with you.
The expertise required to set up and maintain that infrastructure already exists, with offshore teams possessing proven experience in:
Keeping websites up to the date with course offerings.
Managing knowledge databases (searchability for self-service, blog posts, FAQs, web design, UX).
Providing live chat, mobile self-service platforms, and email support.
Managing IT – maintaining systems, troubleshooting, enabling video lectures and customized online learning portals, library systems, and grading and teaching resource software.
Furthermore, maintaining profit margins with increased competition and regulatory requirements necessitates streamlining your business operations, too. Universities and schools, driven by government spending cuts, have already turned to outsourcing to fill the gaps.
These are functions well suited to being undertaken offshore. They include:
Student Fee management – e.g. collection, payment plans, discounts, etc.
E-learning services – e.g. teaching live online courses about business, architecture, design, finance and more.
Resources and facilities management – e.g. purchasing, maintenance, repairs, insurance.
Compliance – e.g. HR (staff qualifications and regulatory checks), staff ratios, preparing for inspections like Ofsted and ISI
Document management
Financial management.
Frequently offshored eCommerce roles
Some of the more frequently outsourced education roles:
Online Tutors (various subjects)
English Teachers
Teaching Assistants
Admissions Officer
E-learning Specialist (Modules Designer)
Student Enrollment Officer.
Reference:
1 HolonIQ. $10 Trillion Global Education Market in 2030. 3 Jun. 2018
2 Deloitte. Five key trends affecting the education sector
3 HolonIQ. Education in 2030: Five scenarios for the future of learning and talent
4 Forrester Research, Inc.. Your Customers Don't Want To Call You For Support. 4 Mar. 2016
Sample education employee profiles
At MicroSourcing, we have more than 184 education specialists in our candidate database, and access to more than an additional 1,800 across the Philippines. Here are a few examples of real candidate profiles:
SKILLS
Team and account management
Coaching, mentoring and performance management
Training design and delivery
CRM and LMS management
Pedagogy and andragogy processes
Curriculum design and development
RECENT ROLES
Global Learning Support
Science Teacher – Middle and High School
Technical Support Representative
SKILLS
Outbound international telesales
Software product demonstrations
Leadership and process development
Change management and strategic planning
RECENT ROLES
Outbound Telesales Representative
English Teacher
Special Education Teacher
Head of Physical Education Department
MicroSourcing clients by industry
MicroSourcing has built a close affinity with the education industry, with over 184 employees currently working for education providers globally., and we're ISO 9001 (quality management) and ISO 27001 (information security) certified.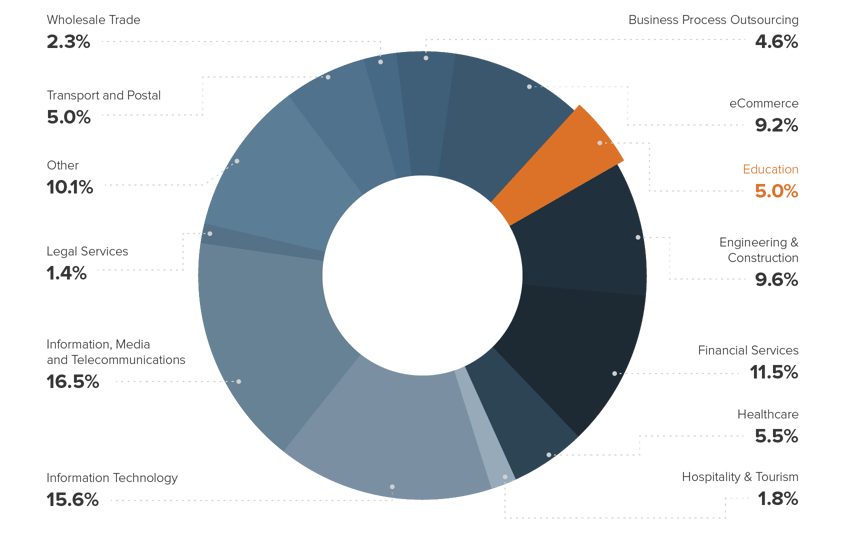 Frequently Asked Questions
How long does it take to get an offshore team up and running in the Philippines?
It is completely dependent on what roles you decide to offshore to your outsourced education team. You could have a team up and running in as little as six to eight weeks.
The best way to ensure an efficient recruitment process for our talent acquisition (TA) team in the Philippines is to ensure that, during consultations, you detail the role requirements, skills and ideal candidate as best you can. This will ensure that our TA team in the Philippines has the necessary information to source the perfect candidate to get your offshore team up and running as soon as possible.
Keep in mind, depending on the size of your required team, our TA team may require additional time for the extra recruitment, training and onboarding.
How can I ensure quality when hiring an offshore education team in the Philippines?
MicroSourcing's talent acquisition team works just as an in-house recruitment team would. They screen, interview and test candidates to ensure they meet the needs and requirements as illustrated in your position descriptions. With over 10 years of experience pioneering a new way of offshoring, MicroSourcing's expertise is backed by being one of the largest and most experienced offshoring providers in the Philippines - so quality is not a concern.

With a dedicated management team on the ground, working one-on-one with your staff in the Philippines, MicroSourcing has 192+ talented staff in operations who keep the communication between your business and your offshore team streamlined. We also have operational departments that help your employees function efficiently and productively.
Interested in recruiting team(s) in the Philippines?
Since our inception in 2006, MicroSourcing has become one of the biggest providers of offshoring solutions in the Philippines. We can help you build a dedicated team in the Philippines, regardless of the roles and level of specialization you require. MicroSourcing is 100% owned by the Probe CX, one of Australia's fastest growing offshoring solution and customer engagement firms. So, it's safe to say we're experts in outsourcing to the Philippines.
Call +1 888-731-0023 today or send us an email to discuss your company's offshoring needs.