Looking to outsource eCommerce customer services to the Philippines? Or curious about what individual job roles you can support with offshore staff? Here's what you need to know…
Around the world, the eCommerce industry is experiencing explosive growth. In the US, for example, five-year growth is expected to be 45.7%, with 45.6% growth in France, 44.6% in Australia, 38.8% in Canada, 35.6% in Germany and 31.3% in the UK.
So for most eCommerce retailers, growth isn't the problem. Profit is the problem. Particularly as a huge proportion of online sales occur across geopolitical borders. 57% of online shoppers buy from overseas retailers. And that figure's even higher in Europe and the Asia-Pacific.
In other words, they're global. Customers want to buy when they want to buy, how they want to buy. They don't want to be hobbled by your time-zone, your currency, your business hours, your shipping options, your delivery times or your 8-year old, desktop-only website. They're certainly able to read and write reviews quickly, find customer ratings (and add their own ratings) quickly, and find the best price online quickly.
Book a Free Consultation
Interested in recruiting eCommerce staff in the Philippines?
Not to mention the fact that Amazon is quickly expanding, and taking their refined, sophisticated business processes with them.
The lesson that the most successful eCommerce businesses around the world are learning is that they need to build for mobile, they need to change how their eCommerce sites are developed and tested, they need to be more creative and technical with their search engine optimization (SEO), and they need to provide better customer service.
But how do you do that when over-investing in local talent leaves no capital for other growth necessities? Especially when the local talent pool is so small and comparatively under-qualified?
The answer is simple: you need to follow your customers and go global. You need to be able to move beyond the time and resource constraints of your local employment market, and tap into employment markets overseas, where the talent pool is broad and deep, where living, labor and occupancy costs are significantly lower, where employees still value their jobs and display loyalty, and where you'll get service quality as good – or better – than you'll find at home.
By leveraging offshore job markets, you'll finally be able to increase your profits. eCommerce oustourcing just makes good business sense.
Why is the
eCommerce

industry suited to offshoring?

Fortunately for eCommerce businesses, it's an industry that's particularly well suited to offshoring, because:
Most of your local

eCommerce

staff are already set up to communicate and collaborate remotely. For most, it's the go-to communication strategy and preferred work arrangement. So employing a team offshore won't impact your local team much at all.
Most of the actual work in the

eCommerce

industry is performed using cloud-based software, which is available via any browser. So the team's physical location is irrelevant. In fact, you might even be able to utilize

eCommerce

full outsourcing services to run your business entirely offshore.
A lot of the work can be done at any time – not just in business hours (although a good provider will give you access to people who can work your hours if you want).
Frequently offshored
eCommerce

roles

Some of the more frequently outsourced eCommerce roles include:
Customer Service Representative
Sales Consultant
Technical Support Specialist
Digital Marketing Specialist
UI/UX Web Developer
Application Developer
Account Manager

eCommerce

Specialist
Accounts Payable Specialist
Accounts Receivable Specialist.
Sample eCommerce employee profiles
At MicroSourcing, we have more than 8500 outsource eCommerce customer service specialists specialists in our candidate database, and access to more than an additional 15,000 across the Philippines. Here are a few examples of real candidate profiles:
SKILLS
Retention strategy implementation
Customer service background
Web scripting experience with AngularJS, JQuery and JS
Web design experience with JSP, Grails, JSTL, HTML5 and CSS
RECENT ROLES
Customer Service Representative
Technical Support Representative
Customer Retention Specialist
Java Developer
SKILLS
Management of marketplace projects on Amazon and eBay
Reporting and inventory management
Competitor analysis
ORM: Hibernate, MyBatis, Cayene, Framework: Spring, Struts2 and Servlet
DB: IBM DB2, Oracle, PostgreSQL, MySQL and VFP
RECENT ROLES
eCommerce Specialist
Pricing and Research Analyst
Data Analyst
MicroSourcing clients by industry
MicroSourcing has built a close affinity with the eCommerce Industry. In fact, eCommerce is in our Top 5 Industry Sectors enjoying and mastering the benefits of offshoring. With over 320 eCommerce professionals currently working for clients in Australia, the Americas and across Europe, we have significant experience in this Industry.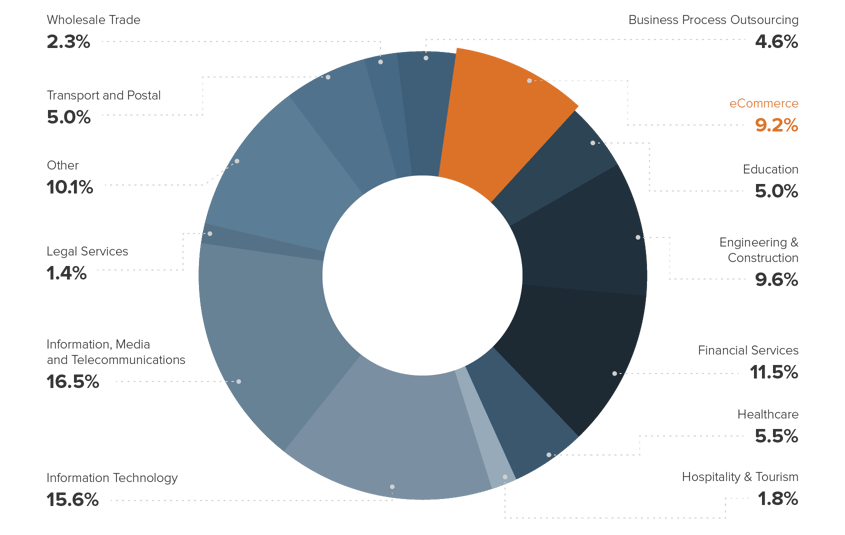 Some satisfied eCommerce customers
One of our clients, Total Tools, is Australia's largest independent professional tools retailer. After outsourcing eCommerce functions through MicroSourcing, they experienced triple-figure growth and significantly reduced total operational costs. Total Tools General Manager of Marketing, Darren Gunton, was so happy with their offshoring success that he volunteered to share his MicroSourcing story with other Australian retailers.
Interested in recruiting team(s) in the Philippines?
Since our inception in 2006, MicroSourcing has become one of the biggest providers of offshoring solutions in the Philippines. We can help you build a dedicated team in the Philippines, regardless of the roles and level of specialization you require. MicroSourcing is 100% owned by the Probe CX, one of Australia's fastest growing offshoring solution and customer engagement firms. So, it's safe to say we're experts in outsourcing to the Philippines.
Call +1 888-731-0023 today or send us an email to discuss your company's offshoring needs.
ISO/IEC 27001:2013
ISO 9001:2015
HIPAA & PCI DSS compliant